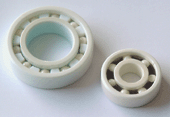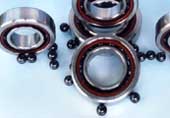 Brief introduction
SLZ Ball Bearing Company is a state-own high-tech company, silicon nitride bearing balls,have obtained the new high technology authentication assigned by Shanghai (China) New High Technology Service Center and the subject code is 20010073(Grade A). SLZ produces ceramic balls in quantities to meet the requirement of domestic and foreign customers. Size is from 0.8 to 50mm and precision includes G5,G10, G16. All qualities are certified by national bearing components certified center. Hybrid ceramic ball bearings (outer ring and inner ring are made of steel) made by SLZ and its cooperative units have been exported to USA and other countries and areas.
The SLZ products of ceramic balls and ceramic bearings have been successfully applied in aviation and aerospace spheres,contributing to a lot for national defense. To date ceramic balls of various specification in a wide rang of sizes,which are made by SLZ,have been assembled in precision,high speed main shaft,dental drill,instrument bearing,computer hard disk driver and anti-magnetic,anti-corrosion,high-temperature applications. Non-standard bearing orders to specifications arranged by customers are also welcomed.
Field of Application the transmit device of high temperature furnaces: Si3N4 ceramic retains strength and hardness nearly up to 800c, but bearing steel hardness drops above 120c. high-speed rotation field: Such as high speed motor spindle bearings, main shaft bearings of machine. The specific gravity of Si3N4 is 3.20g/cube cm and that of bearing steel is 7.85g/cube cm,We can see the former is much lower than the latter,therefor the ceramic rolling elements can effectively restrain the centrifugal force, which produces in high speed rotation,and reduce the load of rolling elements and race way corresponding reduces. This is good to prevent surfaces from damage. aviation and airspace fields: The coefficient of thermal expiation of Si3N4 is 0.0000032/k but that of bearing steel is 0.00001/k,that are nearly in the ration of 1 to 4. Thereford Si3N4 cermic bearings are more stable and reliable in a temperature changeable condition. the main shaft of machine tools: The Si3N4 ceramic has double the hardness of bearing steel, and 1/3 modulus of elasticity larger than that of bearing steel,We can found that the elastic deformation of Si3N4 is small under an identical loading. chemical machinery,food industry and marine industry: The ceramic bearings can solve corrosion problems. high vacuum field: In high vacuum field people take the advantage of self-lubrication of ceramic bearings to replace the bearing in order to prevent vacuum from lubrication contamination. strong magnetic environment: In a strong magnetic environment the metal powder which is produced from wear of steel bearing,adheres the surfaces of rolling element and race way and causes flanking in aduance and increasing noise. The solution to this problem is also using ceramic bearing. roller skates, model airplanes and motor-driven toys so on in civil use: It is the price factor of ceramic bearing that limits its wide use in the world. So up to now most applications of ceramic bearing are merely in high speed,high precision mechanism,in addition the hybrid construction of ceramic bearing, that is ceramic ball with steel inner ring and outer ring,is most adopted.Owing to adopting net shaping technology the using of above mentioned spheres but also of roller skates,model airplanes and motor-driven toys so on in civil use. Speciality Ceramic Materals are noted for their characters of high strength in high temperature,good wearability,high rigidity,corrosion resistance, high temperature resistance, electrical insulation,non-magnetic, these characters qualify them for replacing steel to make bearing to meet the requitements in a severe condition where a steel bearing cannoit wyghsdtand. Ceramic materials, which can be used in making bearings, include mainly silicon nitride(Si3N4), Zirconia(ZrO2), Alumina(Al2O3)and so on. Si3N4 is in speaking form,which bearing steel also had,But ZrO2,Al2O3 fail in a crush form,a catastrophic failure. !Note:NOn-standard ceramic ball orders to specifications arranged by customers are also welcomed.
Table 1 : Fundamental property data of ceramic and steel materials
Iterms

Unit

Bearing steel

Stainless steel

Si3M4 Silicon Nitride

ZrO2

Zirconia

AL2O3

Zirconia

d DENSITY

7.85

7.90

3.20-3.30

6.00

3.95

COEFFICIENT OF LINEAR EXPANSION

10.0

11.0

3.2

10.5

8.5

YOUNG'S MODULUS

Gpa

208

200

300-320

210

380

PSISSON'S RATION

--

0.30

0.30

0.26

0.3

0.22

HV HARDNESS HRC

-

66

BENDING STTENGTH

Mpa

2400

2400

600-1200

950-1200

300-500

FRACTURE TOUGHNESS

25

25

6.0-7.0

10.0

3.4

THERMAL CONDUCTIVITY

W/mk

30-40

15

35

2-3

30

SPECIAL ELECTRICAL RESISTANCE

0.1-1

0.75

WORKING TEMPERTURE

120

300

800

800

800

CORROSION RESISTANCE

-

poor

poor

good

good

good

STRESS CYCLES (50%FAILED)

-

NON LUBRICATION FRICTION

-

large

large

little

little

little

MAGNETISM

-

magnetic

magnetic

non-magnetic

non-magnetic

non-magnetic

CENTRIFUGAL FORCE

-

very large

very large

little

large

middle

OPERATE TEMPERATURE INCREASING

-

high

high

low

low

low

SIZE STABILITY

-

unstable

unstable

stable

stable

stable

CONDUCTIVITY

-

conductor

conductor

insulator

insulator

insulator

ROLLING CONTACT FAILURE FORM

-

flanking

flanking

flanking

crush

crush
Table 2 : Types of GSN200 ceramic balls
Type

Dia. with zero gauge and preferred gauge

Type

Dia. with zero gauge and preferred gauge

mm

inch

mm

mm

inch

mm

0.8

-

0.8000

7.5

-

7.5000

1

-

1.0000

-

5/16

7.9375

1.2

-

1.2000

8

-

8.0000

1.5

-

1.5000

8.5

-

8.5000

-

1/16

1.5875

-

11/32

8.7312

2

-

2.000

9

-

9.0000

-

3/32

2.3812

9.5

-

9.5000

2.5

-

2.5000

-

3/8

9.5250

3

-

3.0000

10

-

10.0000

-

1/8

3.1750

13/32

10.3188

3.5

-

3.5000

11

-

11.0000

-

5/32

3.9688

7/16

11.1125

4

-

4.0000

11.5

-

11.5000

4.5

-

4.5000

-

29/64

11.5094

-

3/16

4.7625

-

15/32

11.9062

5

-

5.0000

12

-

12.0000

5.5

-

5.5000

-

31/64

12.3031

-

7/32

5.5562

-

1/2

12.7000

-

15/64

5.9531

13

-

13.0000

6

-

6.0000

-

17/32

13.4938

-

1/4

6.3500

14

-

14.0000

6.5

-

6.5000

-

9/16

14.2875

-

17/64

6.7469

15

-

15.0000

-

-

7.0000

-

19/32

15.0812

-

-

7.1438

-

5/8

15.8750
Table 3 : Si3N4 Ceramic Brand of SLZ
| | | |
| --- | --- | --- |
| Brand | Performance | Price Coefficient |
| GSN-100 | Good wearability,corrosion resistance | 0.6 |
| GSN-200 | Good wearability, corrosion impaction resistance, high strength | 1 |
| GSN-201 | Good wearability,corrosion resistance, high rigidty, high strength | 1.1 |
| HSN-300 | Best performance, high relialility, long fatigue life | 1.5 |
Graph 1 : Fatigue Life-span curve of Si3N4 Ceramic

Table 4 : Grade of ceramic ball ISO3290-1975(E) STANDARD
| | | | |
| --- | --- | --- | --- |
| Grade | Allowable Ball Diameter Variation(VDWS) | Allowable Deviation from Spherical From(RM) | Maximun Surface Roughness(Ra) |
| G3 | 0.08 | 0.08 | 0.012 |
| G5 | 0.13 | 0.13 | 0.020 |
| G10 | 0.25 | 0.25 | 0.025 |
| G16 | 0.40 | 0.40 | 0.032 |
| G20 | 0.50 | 0.50 | 0.040 |
| G28 | 0.70 | 0.70 | 0.050 |
| G40 | 1.00 | 1.00 | 0.080 |
| G60 | 1.50 | 1.50 | 0.100 |
| | | | | | |
| --- | --- | --- | --- | --- | --- |
| Grade | VDWL Lot Dia Variation | Gauge interval | Preferred Gauae | La: ST um max | Sortenbereich und Sorteneinteilung |
| G3 | 0.13 | 0.5 | -5,- - -, -0.5, 0,+0.5,- - -,+5 | 0.1 | -0.2, -0.1, 0, +0.1, +0.2 |
| G5 | 0.25 | 1 | -5,- - -, -1, 0, +1, - - -,+5 | 0.2 | -0.4, -0.2, 0, +0.2, +0.4 |
| G10 | 0.5 | 1 | -9,- - -, -1, 0,+1, - - -,+9 | 0.2 | -0.4, -0.2, 0, +0.2, +0.4 |
| G16 | 0.8 | 2 | -10,- - -, -2.0, +2, - - -,+10 | 0.4 | -0.8, -0.4, 0, +0.4, +0.8 |
| G20 | 1 | 2 | -10,- - -, -2.0, +2, - - -,+10 | 0.4 | -0.8, -0.4, 0, +0.4, +0.8 |
| G28 | 1.4 | 2 | -12,- - -, -2.0, +2, - - -,+12 | 0.4 | -0.8, -0.4, 0, +0.4, +0.8 |
| G40 | 2 | 4 | -16,- - -, -4.0, +4, - - -,+16 | 0.4 | -1.6, -0.8, 0, +0.8, +1.6 |
| G60 | 3 | 5 | -20,- - -, -5.0, +5, - - -,+20 | 1 | -2, -1, 0, +1, +2 |
CERAMIC BEARINGS
Suzhou (China) SLZ Machinery Co., Ltd.
Address: No.7 Dong Xiao Qiao Xia Tang, Shi Zi Jie, Suzhou,215006 China
Tel : (86 512) 61155723 / (86 512) 65548964 / SKYPE : gsiec1
Fax: (86 512) 65155198 / (86 512) 65532376
MSN: order@bearingsworld.com
Email Address(es):