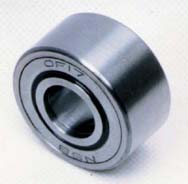 ¡¡
These bearings, which contain a full complement of needle rollers, having a particularly thick-walled outer ring, can accommodate heavy as well as shock loads.
Support rollers of OF series with an inner ring for straddle mounting in a yoke.
All have axial guidance by washer.
Special dimensions, such as smaller thread size can be chosen.